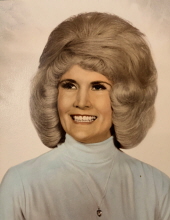 Obituary for Barbara Horton
Barbara "Barbie" Dean Horton passed away on February 29, 2020 in Athens, Texas. She was born on February 24, 1941 in Collinsville Mississippi to Mary and Monroe Frazier.

She is Preceded in death by her mother Mary Frazier, father Monroe Frazier, her brother Jimmie Frazier, as well as her husband of 53 years Robert Donald Horton Sr.

Barbara Horton was a loving and devoted mother and grandmother to her children and grandchildren. She was loyal to the core and made sure everyone that was in her life was well taken care of no matter what the situation was. She loved and was loved by so very many, including her dearly loved animals. She spent 30 years in the sewing factory as a seamstress and trainer at Cheerleaders in Athens where she retired from in the late 90's. She made many lifelong friends along the way.

Barbara is survived by her brothers Greg and Paul Frazier and sister Theresa Frazier. Barbara has two sons Rick McKenzie and wife Stacey, Robert Horton and wife Stephanie. Barbara had many grandchildren, Ryan McKenzie and wife Kristin Antis, Macey Frederick and husband Dalton Frederick, Tyler Hussey and wife Kelley Hussey, Meagan Gonzales (Horton), Travis Horton, Paige Ross (Horton), Dustin Horton, Cody Horton, Abby Horton, Montana Shultz, Tori Shultz, Cheyenne Krumnow, Chloe Shultz, Micah Shultz. She had many great grandchildren Carson Frazier McKenzie (Due July 2020) and Kennedy Hussey, Gabby Gonzales, Isaiah Gonzales, Jada Ross, Rowan Ross, Cecilia Ross, Ryann Shultz, Turk Shultz, Isabella Hernandez, and Addison Shultz.
Barbara was a loving mother, grandmother and great grandmother to all of her family.


Previous Events
Graveside
Rock Hill Cemetery
1
Brownsboro, TX