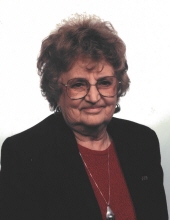 Obituary for Bettye Alice Harrison
Bettye Alice Harrison was born May 22, 1930 in Brownsboro, TX to Clifton and Jewell Tidwell. She passed way on May 7, 2019 in Tyler, TX. Memorial Service to commemorate her life will be held at 3 p.m., Saturday, May 11, 2019 at Autry's Carroll-Lehr Funeral Home Chapel with Derl Adair officiating.
Bettye was an accomplished cook and enjoyed baking. She was known for her homemade jams that she was so proud to sell at the local farmers market. She was also a giant Rangers baseball fan and very rarely missed a game on television. She loved to read but most of all she loved her family.
Mrs. Harrison is preceded in death by her beloved husband of 69 years, Earl W. Harrison, son, Thurl Wendell Harrison, grandson, Aaron Harrison as well as her parents and siblings.
Survivors include her son, Wayne Harrison and wife Jo Lynn of Hugoton, KS; her daughter, Lorrie Mills of Athens, TX; her daughter-in-law, Paula Harrison, of Deltona, FL; her grandchildren, Dustin Harrison and wife Kathy, Melissa Shelton and husband Justin, Anson Harrison and Pat Barrett, Nathan Harrison and wife Liz, and Mollee Mills; 7 great grandchildren, and 2 great-great grandchildren; along with several nieces and nephews.
Arrangements by Autry's Carroll-Lehr Funeral Home.


Previous Events
Service
Autry's Carroll-Lehr Funeral Home
1910 E Tyler St.
Athens, TX 75751