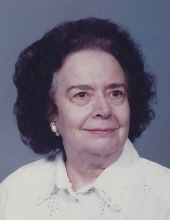 Obituary for Carolyn Hazel Shafer
Carolyn Hazel Shafer was born on February 12, 1924 in Norwood, MA to Herbert and Hazel Gurnee. She went to be with her Lord on Saturday morning, February 8, 2020 in Athens, TX at the age of 95 years. Mrs. Shafer earned her Bachelor's degree from Arizona State University, Phoenix, AZ. She married James (Jim) Shafer on February 18, 1945 and thus began their adventure. Due to Jim's career the family lived in many locations including Arizona, Maine, Ohio, Rome, Italy and Carlisle, England, finally settling in Richardson, Texas in 1965 where she stayed busy raIsing her ten children. A loving and devoted mother, her children were always her top priorIty. After the children were in school Carolyn continued her higher education achieving a Master's degree in Early Childhood Development from East Texas State University, Commerce, TX (presently Texas A & M Commerce). She taught pre-kindergarten at Cardinal Preschool in Richardson, TX for many ¬¬¬¬¬¬¬¬¬¬¬¬¬¬¬¬¬¬¬¬years. Following her retirement Carolyn moved to Athens, TX where she lived out the remainder of her life. A devout Christian since early adulthood, Carolyn served her Lord faithfully throughout her lifetime. She loved to read, write poetry, watch Texas Ranger Baseball, travel, and visit her children and grandchildren.
Carolyn is preceded in death by her husband, James Shafer, her parents, her sister, Marjorie Fagan, and her children: Julie Larson and Joseph Shafer, and grandsons, Michael Shafer and Jeremy Smith. She is survived by her children: son Jim Shafer and wife Dianna, Julie's husband Ralph Larson, Joseph's wife Melinda Shafer, daughter Mary Gentle and husband Drew, son Daniel Shafer, daughter Grace Shafer, son Paul Shafer and wife Joanie, son Tom Shafer and wife Charlotte, daughter Ruth Richardson, and son Richard Shafer; grandchildren: Spencer Stokes and wife Frannie, Tamara Warlick and husband Andre, Zachary Shafer and wife Tara, Katie Moriarity, Richard Shafer, Jeffrey Shafer, Matthew Smith, Andrew Smith, Sarah Pyles, Emily Buck and husband Chris, Christy Shafer, Megan Dunanvan and husband Danals, Ryan Shafer and wife Rebecca, Jason Shafer and wife Ashley, Jonathan Shafer, Jared Richardson and wife Raelynne, Elise Jones and husband Matt; great-grandchildren: Shelby Stokes, Keelie Flores, Courtney Westbrook, Stormy Smith, Cassie Brummett, Brittney Warlick, Jonathan Warlick, Savannah Warlick, Lola Meredith, Dee Shafer, Autumn Shafer, Lealani Shafer, Mason Moriarity, Kade Moriarity, Klover Moriarity, Farrah Moriarity, Shoshone Moriarity, Josalyn Shafer, Hannah Buck, Rowan Shafer, and Natalie Shafer. Mrs. Shafer also had eight great-great grandchildren as well as numerous nieces, nephews, grand-nieces and grand-nephews.
Funeral Service will be Wednesday, February 12, 2020 at 2pm at Autry's Carroll-Lehr Funeral Home Chapel with burial to follow at Meredith Campground Cemetery. Visitation will begin at 1pm on Wednesday prior to the service.


Previous Events
Visitation
Autry's Carroll-Lehr Funeral Home
1910 E Tyler St.
Athens, TX 75751
Service
Autry's Carroll-Lehr Funeral Home
1910 E Tyler St.
Athens, TX 75751
Cemetery Details
Location
Meredith Campground
Co Rd 3901
Athens, tx 75752