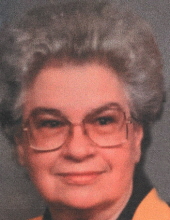 Obituary for Gladys Fay Collins
Gladys Fay Collins would like you to know, though she may be gone from this world, she is so happy to have her heavenly wings. At this time, she is with her beloved family and friends that she has been missing for a long time. Gladys, age 90, passed away on November 18, 2019, in Mineola, Texas. She was born on February 1, 1929 in Kerens, Texas to Ira B and Laura Mae Hawkins.
She will be happily reunited with her husband, Roy Lee Collins and her son, Wayland Lee Collins.
Gladys served as a preachers wife for 50 years and a mom for 70 years. Her family came first but she had so many friends that were like family, the more the merrier. She loved nothing more than her friends and family sitting around her table talking and eating her awesome cooking. She could put a huge spread on the table in a moment's notice. Everything had at least one to two sticks of butter.
Throughout her life, she touched many friends and coworkers with her love of life. She was strong in her church, faith and showed her love for God through her daily life. All that knew Gladys has one or two FUNNY stories to tell about her. She had a natural humor that touched us all and could make you laugh beyond tears.
Gladys is passing on her love and energy to her daughter, Gatha Smith and husband Kent; her granddaughter, Jenny Collins, grandchildren, Harley, Cameron, Cole, Mystic, and Phoenix.
Services for Gladys will be held on Friday, November 22, 2019 at Autry's Carroll-Lehr Funeral Home with a visitation at 9:00 AM, followed by the funeral services at 10:00 AM. Burial to follow at Oak Grove Cemetery in Kerens.


Previous Events
Visitation
Autry's Carroll-Lehr Funeral Home
1910 E Tyler St.
Athens, TX 75751
Service
Autry's Carroll-Lehr Funeral Home
1910 E Tyler St.
Athens, TX 75751