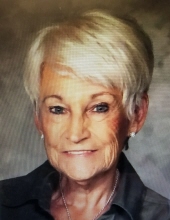 Obituary for Ina Morton
Ina Morton passed away on September 13, 2019 at home in Eustace, Texas at the age of 83. She was born in Bearden, Ark., on October 31, 1935 to Rachel Lee Young and Thomas Garner. Ina was only 11 months old when her father passed away. Her mother later married Luther Quarles, who raised her and sister Hildred as his own.
Ina is survived by husband of 44 years, James L Morton.

Ina has 4 sisters and 1 brother; Hildred Wilson, Pat Walthall and husband Pete, Myrtle Jean Brock, Linda Walthall and husband Bud and Dennis Quarles and wife Cornelia.

She has 5 children; Tommy Freeman wife Janet, John D. Freeman wife Terri, Mike Freeman and Kathy, Karen Key husband Brian and Kathy Morton.

There are 10 grandchildren; Chad Freeman, Stephanie Sok husband Sundro, Lindsay Bruns husband Luke, Matt Beavers and Kristin, Carson Beavers, Jessica van Dyke husband Tony, Rebecca Holmberg husband Erik, Alyssa Brewer husband Luke, Cassie Freeman and Katie Morton.

There are 13 great grandchildren that she loved very much; Natalie Freeman, Grayson Freeman, Sully Sok, Saxton Sok, Piper Bruns, Rylan Bruns, London Beavers, Oliver Beavers, Deklan Brewer, September Holmberg, Abel Holmberg, Carly Freeman and Aria Beth Van Dyke.

Ina attended Centenary College in Shreveport, Louisiana while working for Southern Bell Telephone. She and her family moved to Dallas, Texas in 1969. there she worked in the business office for Southwestern Bell Telephone. She soon attained a management position. She was a people person and always worked to make people feel they were important to her because they were. She soon found herself opening and running Phone Center Stores in north Texas. Ina was awarded many accolades and praises for her work. She was very active in the Dallas club of The Telephone Pioneers of America and served as President one year. Afterwards she was a member of the Cedar Creek Club of the pioneers. She retired in 1990 from AT&T, to the family ranch in East Texas with her husband Jim Morton, they raised cattle, grand kids and great grand kids. They were members of The First Baptist Church of Eustace. She and Jim loved to be together and travel. They loved to take the grand kids along with them to show them the world around us. Ina was very close to her sisters and brother they visited and traveled together as much as possible.
The Morton and York side of our family was very close to her also. She and Jim had dinners at Grandma Morton's home nearly every Sunday. Any family or friends that was near or in town could and would show up to eat and visit.
Her smile and friendship are and will be missed by family and friends.
A Memorial service to Celebrate her life will be held at First Baptist Church in Eustace, Texas, 209 Meredith St. 75124, on October 5, 2019, at 11:00 A.M. under the direction of Autry's Carroll-Lehr Funeral Home.
In lieu of flowers the family requests that you make a donation to the charity of your choice in Ina's name.


Previous Events
Service
First Baptist Church
Eustace, TX