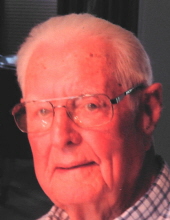 Obituary for Jack Arthur Hearn
Jack Arthur Hearn, age 97, of Star Harbor, Malakoff, TX., died June 16,2019.
He was born on the family farm across the road from Dale Evans's homeplace in Italy, Texas, on February 19,1922, to John Arthur Hearn and Lela Ward Hearn. After finishing high school in Italy, he joined the National Guard from Italy, Texas, and was subsequently mobilized into the Army 36th Division (known as the T-Patchers) on November 25, 1940. He and his unit saw action in North Africa, Italy, and France, having made amphibious landings in Salerno and Anzio, and in southern France. Second Lt. Hearn was wounded in action near Strasbourg, France, on December 21, 1944.
Following military service, he worked with Texas Power and Light Company, Dallas, for 19 years as head of a land surveying crew. In 1968 he formed Jack A. Hearn Surveying, Athens, and stayed in that business until retirement in 1987, at which time the business was sold to Mark Ferrell.
He was a long-time member of the Malakoff Lions Club and First Baptist Church, Malakoff, and has been a member of First Baptist Church, Athens, since 1992. His favorite pastime was golfing, which he enjoyed for twenty plus years, especially with his three brothers. He also loved growing and sharing gorgeous tea roses, and luscious peaches and plums.
He was preceded in death by parents, four brothers, three sisters, and Billie Ruth Haynes Hearn, the mother of his three children.
Survivors include wife, Barbara Shumate Hearn, Star Harbor, daughters Pamalah Wright, Tulsa, Oklahoma, Priscilla (Ronnie) Redmon, Mansfield, and son, Keith (Janet) Hearn, Midlothian; seven grandchildren, 15
great-grandchildren, and Susan, Sarah, and Ethan Schwartz, as well as numerous other family members and many friends. As well as his beloved companion and faithful furbaby NoraBelle.
Jack Arthur Hearn was a humble man who trusted in God deeply, loved his family, his country and his church.
Memorial service, under the direction of Autry's Carroll-Lehr Funeral Home is scheduled for Thursday July 11th at 10:00 A.M. at First Baptist Church, Athens, with the Rev. Dr. Kyle Henderson officiating, with private interment. Visitation with family at reception for everyone immediately following service.
Honorary bearers are Mark Ferrell, Boog Ferrell, Clark Fincher and every former and present employee of Jack A. Hearn Surveying Associates.
Memorials may be made to either the Building Fund or the Missions Fund, Athens First Baptist Church.
Previous Events
Service
First Baptist Church
105 South Carroll Street
Athens, TX 75751