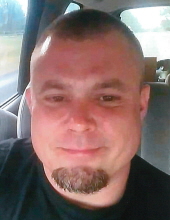 Obituary for Jared Anding
Jared Anding was born on October 3, 1977 in Athens, TX, to John Templin and Patricia Loden Anding. He passed away on January 27, 2019.
Graveside service will be 2 pm, Friday Feb. 1, 2019 at Becks Chapel Cemetery. Visitation will be Thursday evening from 5-7 pm at Autry's Carroll-Lehr Funeral Home.
Jared had a great sense of humor, he loved to cut up and make jokes. He was always smiling and making people laugh regardless of what the circumstances were. He also had a generous nature and would give you the shirt off his back if he thought you needed it. He enjoyed people, loved kids, lifting weights and riding in his coworkers custom trucks.
Jared Anding is survived by his children: Kyler Anding Dalrymple and Kinleigh Anding Dalrymple; Mother, Patricia A. Loden Anding, Father, John Templin, Sister, Jana Muehl and her husband Jeff, Step brothers and sisters, Jason Anding and wife Kim, Steven Anding and wife Lori, Jennifer Nichols and husband Tony, Amy Jones and husband Jay, Nieces and Nephews: Cash Muehl, Ann Muehl, Ashley Muehl; and several great nieces and nephews.
He is preceded in death by his grandparents and his stepfather, Larry Anding.
Previous Events
Visitation
Autry's Carroll-Lehr Funeral Home
1910 E Tyler St.
Athens, TX 75751
Graveside
Becks Chapel Cemetery
Shady Oaks Community
Athens, TX