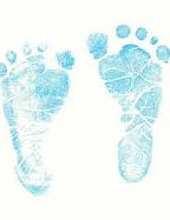 Obituary for Jensen Robert Sallee
Jensen Robert Sallee, age 5 days old, passed away on June 15, 2019 in Tyler, Texas. He was born on June 10, 2019, to Robert Sallee and Stacie Niemeyer.
He was preceded in death by his paternal grandmother, Bonnie Jean Sallee.
Even though Jensen had a short life here on earth, he touched so many people around him with the deep love that his family and friends had for him. His family has the promise that he is safe in the arms of Jesus and they will see him again someday and will never be separated again.
Survivors include his Mommy and Daddy; his sister, Jadah Raine Salle; his brother, William Roy Sallee; his grandparents, Howard and Nelda Tillison; his uncle, Mark Tillison and wife Becky, Ty and Taylor; along with numerous close family and friends.
Funeral service will be held at Autry's Carroll-Lehr Funeral Home on Saturday, June, 22, 2019 at 1:00 PM.
The family invites you to join them for a reception following the funeral service at First Baptist Church of Murchison fellowship hall.
Previous Events
Service
Autry's Carroll-Lehr Funeral Home
1910 E Tyler St.
Athens, TX 75751