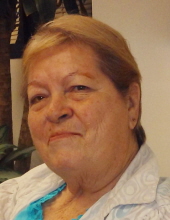 Obituary for Linda F. Seilheimer
Linda F. Seilheimer "Mimi" age 72 of Malakoff, passed away on September 3, 2019 in Tyler, Texas. She was born on August 12, 1947 in Athens, Texas to Wilbur and Margie Skinner.
She was preceded in death by her parents; her brother, Alvin Skinner; her husband Jerry Seilheimer.
Linda was married to her husband Jerry Seilheimer on August 14, 1965. They were married for 53 years. She was also a lifelong member of the Crescent Heights Baptist Church of Malakoff. Linda enjoyed helping others in her community. She thoroughly enjoyed spending as much time with her friends and family as possible.
She is survived by her son Allan and daughter-in-law Mechelle of Malakoff; her daughter, Samantha of Malakoff; her grandchildren, Schee, Bennie, Rody, Raleigh, Kade and Kole; her brother, Jesse Skinner and sister-in-law Millie of Tyler; her sister Kay Miers of Malakoff and sister-in-law Linda Kay Strange of Noon Day; as well as several nieces and nephews.
Serving as pallbearers will be Bennie Williams, Rody Seilheimer, Raleigh Seilheimer, Kade Graham, Kole Graham and Timmy Simms. Honorary pallbearers will be Brad Miers and Chance Turner.
Visitation will be held on Thursday, September 5, 2019 from 6:00-8:00 PM at Autry's Carroll-Lehr Funeral Home. Funeral services will be on Friday, September 6, 2019 at 10:00 AM at Autry's Carroll-Lehr Funeral Home Chapel. Burial to follow at Post Oak Cemetery.
Previous Events
Visitation
Autry's Carroll-Lehr Funeral Home
1910 E Tyler St.
Athens, TX 75751
Service
Autry's Carroll-Lehr Funeral Home
1910 E Tyler St.
Athens, TX 75751
Cemetery Details
Location
Post Oak Cemetery
Henderson County, TX