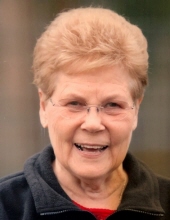 Obituary for Loree Powell Roberts
Funeral services for Lois Loree Powell Roberts, 90 of Murchison have been scheduled for 1:00 P.M. Thursday May 30, 2019 at the First United Methodist Church in Murchison with Rev. D. Nick Sholars officiating under the direction of Autry's Carroll-Lehr Funeral Home.
A Private family burial will follow at Oaklawn Memorial Park, Athens.
Lois Loree Powell Roberts, the first daughter and 3rd child of Albert Franklin and Lola Mae (Cranford) Powell was born on July 27, 1928 in the Unity Community, north of Murchison, in the newly completed family home and on the Powell's century farm that provided well for many Powell generations. What a joyous occasion to add a girl to this family! Loree resided on the same property most of her life, where she felt "at home". She made the transition into her heavenly home on May 26, 2019 in Tyler, Texas.
Loree Powell Roberts loved deep, worked hard and was a friend to many. Her resounding and infectious laugh was her trademark and could be heard for at least a mile! She gave her heart and soul to Jesus in the little Unity Community Baptist Church, when she was a very young child and lived her life as a Christian, performing many acts of kindness and love for others. Throughout her life, she set goals, led by example and then, very simply "followed through". Loree met the love of her life in 1947, in Athens, Tx. She and that "love", AB Roberts married in 1949, giving birth to daughters in 1952 and 1957. They moved back to the Powell Family farm, purchasing the property from various members of the family, making their living in agriculture for many years, then, added a heavy machinery construction company in the 1960's. Loree kept books for the business, adding public jobs through the years to assist her husband in providing the best for her children. Much later in life, she was office manager at Black Beauty Ranch (HSUS) for 15 of her best years, until the age of 82. She loved her job! She also owned Depot Antiques & Collectables for a number of years in the 1980's, which was yet another "favorite" of her life. Some of the things in her world that gave her the most pleasure were enjoying a "Spic & Span" home, spending time with her grandchildren/great-grandchildren, watching "Dancing with the Stars", traveling the world, entertaining friends and family in her home, decorating AND redecorating her home(s), and living life "large", while being totally and completely "in charge" of her own life and decisions. It is anticipated that she's "in charge" in her new home, as well!
After diagnoses of several debilitating illnesses in 2013, Loree moved to Oakwood Assisted Living, where she made friends and enjoyed life to a degree, then, finally, only recently her health demanded more care, requiring a move to a full nursing care facility, where she never found complete comfort as a patient.
She was preceded in death by her parents, her 2 brothers, Odell Powell and Thurman Powell, her husband AB Roberts.
She leaves behind daughters, Ann Roberts Boyles and husband Elliott, Cindy Roberts Richardson and husband Tommy, plus grandchildren Adam Roberts Lewis, Amanda Lewis Bethea and Brandy McKeever, bonus grandchildren Casey Boyles Speltz, Chris Richardson, Holly Richardson Vazquez and Cliff Richardson, and especially wonderful great-grandchildren Beaux Bethea, Brant Babineaux and Brooke Babineaux, and 10 bonus greats. Also, her younger sister Fern Thomas and her husband Bill, and nieces Julie Ellason and Janna Thomas Walker and husband Jamie, in addition to many Robert's nieces and nephews that she still called "her own".
Pallbearers will be Norman Slaton, Chris Richardson, Cliff Richardson, Brett Babineaux, Edward Palmer, Freddie Warren and Julio Padron.
Honorary pallbearers are Dr. Sherif Iskander, Dr. Richard David, Dr. Leo Mack, Adam Roberts Lewis, Jim Spiares, Jim Shelton,Mike Robison, Larry McMinn, Andy Shelton and Danny Burnett.
Visitation for family and friends will be held Wednesday evening from 6-7:30 P.M. at the funeral home.
In lieu of flowers, please send memorials to the Humane Society of the United States (HSUS) or Hospice of East Texas.
Previous Events
Visitation
Arrangements Pending with Carroll-Lehr Funeral Home
Athens, TX
75751
Service
First United Methodist Church Murchison
6632 SH 31 E
Murchison, TX 75778
Cemetery Details
Location
Oaklawn Memorial Park
3100 FM 317
Athens, TX 75751