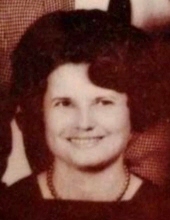 Obituary for Martha Jane Williams
Graveside services for Martha Jane Williams, 88, will be held 2 PM Sunday, July 26, 2020 at Oaklawn Cemetery, 3100 FM 317, Athens Texas 75752. Officiating will be Bro Tom Bragdon of Leagueville Baptist Church. Visitation will be held from 12:00 –1:00 PM immediately preceding the service, at Autry's Carroll & Lehr Funeral Home, 1910 E Tyler St. Athens, Texas 75751.

Martha Jane was born on July 9,1932 and passed away on July 21, 2020. She graduated from Humble High School and went on to get her nursing degree and worked in various hospitals and nursing homes both in Tyler, Texas and Conroe, Texas.

She was preceded in death by her parents, Arthur Washington and Eula Mae Wooten, her brother Charles Wooten, two sons, John Mark (Johnny) Williams and William Arthur ( Billy) Williams Jr., her former husband William Arthur (Bill) Williams, Sr., and three grandchildren, Wendy Williams, Jonathan Williams, and Mireya Williams.
She is survived by her three sons, Charles Malcom (Charlie) Williams and wife Martha of Athens, David Wayne Williams and wife Ada of Brownsboro, and Timothy Fletcher (Tim) Williams of Dallas, grandchildren, Cassandra Lisenbe, Charles Williams, Amanda Jennings, John Williams, Christopher Williams, Joshua Williams, Maggie Koehn and Luke Williams, and siblings David and Ann Wooten and Wilda Mitchell.

Martha Jane loved her five boys and her grandchildren. She was born to be a boy's mom, and she was a wonderful one. She loved teaching Sunday school classes to children and her love for children extended into supporting children in various third world countries from the time they were young and until they turned into adults. Her dresser would have pictures on top of not only her children and grandchildren, but also of the children she supported every month, as well as writing and receiving letters from them as they grew older. She did not spend money on herself, but rather she spent her extra money on those less fortunate. She was always a faithful tither to whatever church she belonged. There was never a time she would say no to her children, grandchildren and friends when they were in need, even if it meant doing without herself. Many people seek to store up treasures on earth, but mom knew the real treasures would be waiting in heaven. She was just passing thru this earth for a short time. Her faith in Jesus Christ was unshakable, and she lived her life in a way very pleasing to God. She never was one to get angry, always available to everyone with a smile and a laugh. All who knew her loved her.
She had a lifetime friendship with her sister in law Anna Mae Williams. From the time they were little girls in Porter, Texas, until they both married brothers Tommy and Bill, and throughout the rest of her life, they were the best of friends, closer than sisters. I can imagine them now in heaven talking about the many fun times they had.
Although no longer with us, the lessons she taught to her children and so many others by her actions, will not be forgotten. If more love and practiced understanding as she did, times would be different. The world was a much better place with Martha Jane in it, and heaven is now a much sweeter place. She will be missed.


Previous Events
Visitation
Autry's Carroll-Lehr Funeral Home
1910 E Tyler St.
Athens, TX 75751
Graveside
Oaklawn Memorial Park
3100 FM 317
Athens, TX 75751