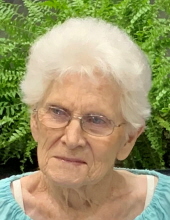 Obituary for Marylyn Yvonne Hopkins
Marilyn Yvonne Hopkins, age 84, passed away to her heavenly home on November 15, 2019 in Athens, Texas. She was born on April 5, 1935 to Arthur E. and Bonnie O'Dell Penney.
She was preceded in death by her parents; husband, S.E. Hopkins; daughter, Paula Mallett; brother, Larry Penney; sister, Joan Stephens.
Marilyn worked for Lone Star Gas company for many years until her retirement. She was a long-time member of Judson Baptist Church where she played the piano for over 40 years. She taught Sunday School and loved it very much. Marilyn was known to be the most selfless person her family ever knew. She put others needs above her own. She never said a bad word about anyone. In her days where her memory was failing her, she could still remember her favorite scriptures and hymns of the church, such as "Blessed Assurance, Jesus is mine", she could sing every word.
Survivors include her daughters Lana Herriman and husband Kevin, Lisa King and husband Scooter; her grandchildren, Will Mallett, Hailey Mallett and Brian Herriman; also, two special foster grandchildren, David Evan & Jaycob Saether ; along with several nieces and nephews.
Serving as pallbearers will be Will Mallet, Brian Herriman, Kevin Herriman, Scooter King, David Sellers and Robert Mills. Honorary pallbearers will be Jesse Herrera, C.L. Thornton, Kimball Watson, David Spence and Dewayne Palmer.
Funeral services will be held Wednesday, November 20, 2019 at 10:00 AM at Judson Baptist Church, with viewing beginning at 9:30. Burial to follow at Union Cemetery. Arrangements by Autry's Carroll-Lehr Funeral Home.


Previous Events
Cemetery Details
Location
Union Cemetery
Cayuga, TX
75766