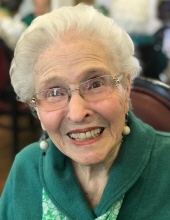 Obituary for Mattie Lee Wolfe
Mattie Lee quoted Psalms 118:24 daily throughout her life.
"This is the day which the LORD hath made; we will rejoice and be glad in it."

Celebration of Mattie Lee Wolfe's 100+ years of life and the positive impact she had on so many by the way she lived her faith in God, is scheduled for Saturday, February 1, 2020 at First Baptist Church Athens, Texas. Family will receive friends during visitation in the church sanctuary, beginning at 1:00 p.m. prior to the 2:00 p.m. service. Brother Steve Glosup will officiate with Grandson Erik VanDuivendyk delivering the eulogy. Burial will follow at Oaklawn cemetery.

Mattie Lee, youngest of 8 children, was born July 12, 1919 in Lindale, Texas. She met the love of her life Duward Wolfe while he was working in the Civil Conservation Corps in her hometown. The couple married in 1937 in Canton, Texas. During their 67-year marriage, Mattie Lee enjoyed her 31-year career with Dallas Power and Light. They both were active in Garland's First Baptist Church before becoming the first full-time residents in Oakwood on Lake Athens in 1984, joining Athens' First Baptist Church family. Nine years after Duward's passing, Mattie Lee chose to be one of the first residents at Arabella of Athens Senior Living Community when it opened in 2013. Mattie loved living there until her reunion with Duward and her Lord and Savior on January 22, 2020.

Survivors include her Children Jerry (& Judith) Wolfe (Dallas), Darlene (& Lynn) Clark (Athens). MaMaw's Grandchildren include Kim (& Cole) Osborn (Oklahoma), Karen & (Steve) Holloman (Alabama), Abby VanDuivendyk (Texas), Erik (& Stacy) VanDuivendyk (Texas) Angela Clark (Arkansas) and Heather (& Bryan) Roberts (Texas). Great-Grandchildren include Nick Osborn, David (& Shanon) Holloman, Laura (& Steven) Nielson, Chase VanDuivendyk, Kyndal VanDuivendyk, Stuart Lenz, Karmyn Newburn, Isaiah Newburn, Keely Roberts and Braydan Roberts. Great-Great-Grandchildren are Oliver Nielson, Wesley Nielson and Sarai Lenz.

Mattie Lee's family expresses sincere appreciation to each of her many friends for your love and kindness over the years. A special "thank you" to doctors Steve Walling and Steven Helf, Mattie's Saints Alive Sunday School Class, as well as the caring, supportive Staff and Residents at Arabella of Athens Senior Living.

In lieu of flowers, anyone wishing to honor Mattie Lee's life and memory is encouraged to do something in your community that will benefit one or more senior citizens or contribute to a charity of your choice.


Previous Events
Visitation
Autry's Carroll-Lehr Funeral Home
1910 E Tyler St.
Athens, TX 75751
Feel free to come throughout the day to pay your respects if you are unable to attend the services Saturday.
Visitation
First Baptist Church
105 South Carroll Street
Athens, TX 75751
Service
First Baptist Church
105 South Carroll Street
Athens, TX 75751
Cemetery Details
Location
Oaklawn Memorial Park
3100 FM 317
Athens, TX 75751