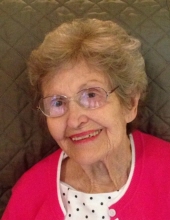 Obituary for Mintie Maxine Napoli
Mintie Maxine Napoli of Athens, Texas passed from this earth on June 10, 2019 and was laid to rest June 11, 2019 at Cypress Cemetery, Winnsboro Texas. Mintie was born April 8, 1922 in Winnsboro, Texas to parents W. R. (Will) and Minnie Patton Black. She graduated from Gilmer High School in 1939.
Mintie embarked on a fulfilling career immediately after graduation, securing professional positions within industries ranging from the airlines to teletype communications. During WWII Mintie traveled extensively with Western Union. On assignment in New York City she met and later married her devoted husband C. Larry Napoli. They later became the loving parents of twin daughters, Pam and Jo.
After residing in New York for thirty years she and Larry joined their daughters in Texas in 1979 and then moved to Athens in 1982. They enjoyed a happy retirement together traveling and spending time with family.
Mintie loved being outdoors, spending endless hours in her gardens. She was an incredible cook and enjoyed hosting friends and family. A devoted animal lover she rescued and cared for a countless number of dogs and cats.
Mintie was preceded in death by her husband of nearly 63 years, two brothers, a sister and two nephews. She is survived by daughters Pamela Napoli, Sara Jo Kowalik (James) of Athens and several nieces and nephews.
The family wishes to express their sincerest gratitude to the dedicated caregivers who contributed to Mintie's ongoing well-being, as well as the staff and administration at Lakeland House, Athens Texas.