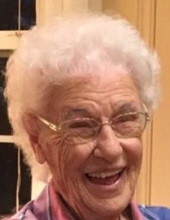 Obituary for Naomi Idell Davis
Memorial services for Naomi Idell Davis are scheduled for 1:00 PM Wednesday, January 29, 2020 at Eastern Hills Church of Christ in Athens with Eric Thornton officiating. There will be a private burial at Cottonwood Cemetery.
Idell passed away in Athens on January 26, 2020. She was born in Eustace, Texas on November 3, 1920 to Jesse and Della Southerland Garrett. She was preceded in death by her parents, husband Ferrell Davis, four brothers, six sisters and two granddaughters, Erin Davis and Vicki Davis Inman.
Idell enjoyed 63 years with the love of her life, Ferrell. They worked side by side in farming and ranching. Idell taught school at Stynx and then in Eustace while Ferrell coached Eustace to a district championship in football. They owned and operated Davis Farm Supply in Palestine and Davis General Store in Montalba. They served as house parents and ran the commissary at Medina Children's Home from 1971-1974. After retiring, they returned to Henderson County in 1979.
Idell was baptized in 1932 and was a member of Eastern Hills Church of Christ for the past 40 years. She and Ferrell ran the Food Pantry at Eastern Hills for several years. She served in various women's ministries, enjoyed teaching young children and cooking for anyone who needed a meal. She was a devoted wife, mother, and grandmother.
She is survived by three sons and their wives, Dick and Cecie Davis of Tyler, Dave and Annette Davis of Athens and Danny and Kathy Davis of Eustace. Momoo is survived by her grandchildren, Adam and Emily Davis of Athens, Laura and Adam Hollifield of Athens, Taylor Davis of Chandler, Andrea and John Hefley of Athens and granddaughter Hailee Hull and wife, Avrey Tankersley of McQueeney, Texas. She is also survived by seven great-grandchildren, two great-great grandchildren and by several nieces and nephews and many close Christian friends.
Family will receive friends at Autry's Carroll-Lehr Funeral Home on Tuesday, January 28, 2020 from 5:00-6:30 PM. Memorials may be made to Eastern Hills Church of Christ Food Pantry, Arms of Hope (Medina or Boles Children's Homes), Camp of the Hills in Marble Falls, Texas or a charity of your choice.


Previous Events
Visitation
Autry's Carroll-Lehr Funeral Home
1910 E Tyler St.
Athens, TX 75751
Service
Eastern Hills Church of Christ
1200 E Corsicana St
Athens, TX 75751