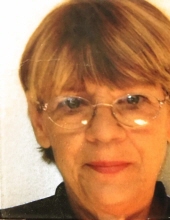 Obituary for Ruby Jeanette Boyd
Ruby Jeanette Powell (she hated being called Ruby) was born in Athens, Tx on Monday October 6, 1952 to "Mattie" Darnell Powell and Winfield Ralph (W.R.) Powell. Her older brother Ralph and younger brother Danny were both her protectors and her tormenters growing up. Jeanette was a precocious child who early in her time in elementary school made friends with her match, Anita MacGregor, another free spirit that would be by her side until the end.

Jeanette married young to Roland Dwight Boyd and had her first child, Rickey Dwight Boyd, when just 16. Roland worked in the Texas oil fields and was gone often. This, along with the demands of being a new mother forced her to leave school. Four years later the young family welcomed another member, Michael Shane Boyd. Jeanette worked as a cake decorator at Winn Dixie in Athens during this time to help make ends meet for her young family while Dwight continued to work the rigs around the state. Her parents, along with Fannie Mae Benson, Dwight's mother helped with childcare and provided countless days of entertainment for the young brothers.

In September of 1979, tragedy struck the Boyd family and Jeanette found herself widowed with two young boys. Jeanette was forced to consider the future for her children. After a brief period of living with her parents, Jeannette was introduced to Morris William (Bill) Shelton by two long time mutual friends. Bill, recently divorced himself, had a 9-month son of his own, Jason Matthew. It wasn't long before the two of them realized they could both fill an emptiness in their personal lives as well as provide much needed care for their three young children. In May of 1980, Bill, Jeannette, Rickey, Shane, and Jason were united together as a family.

Jeanette's natural professional talent was as a health care giver. Over the next 20 years Jeanette would finish school and eventually earn a nursing certificate taking up in-home health care as her chosen profession. Jeannette, especially suited, would eventually care for innumerable people both personally and professionally over the course of her life. Unfortunately, tragedy would strike again in 1999, when Bill passed from a sudden heart attack, leaving her alone once again. Jeannette began to adjust to life alone growing closer to her friends, siblings, mother and grandchildren. It was during this time that she really embraced her role in the lives of those around her. The role of caregiver.

The stories of her willingness to help others in need are countless. Often, she would go without. Jeanette was known as someone that would give everything, she could to anyone in need. There are several examples of Jeanette sacrificing something of hers for others without expectations of being repaid even though she had very little of her own. Her generous spirit and sense of personal outrage fueled her which is why she was so dedicated to her patients, family and friends.

Over the course of Jeanette's life, she touched countless souls and made all of their lives better by having known her. Even those that clashed with her, and there were many, were better off for having known her. Eventually, she would find herself in the care of her fellow nurses, a sad irony, after all the years she spent assisting those in need in their final days. Ever brave and ever proud, refused to be a burden on anyone; leaving behind a legacy of dignity and hope that we will take care of each as she often took care of others.

Jeanette is survived by her mother Mattie Darnell Powell, brothers Ralph and Danny Powell, sons Rickey Dwight Boyd, Michael Shane Boyd and Jason Mathew Shelton along with their families and her loving grandchildren.

Visitation will be Saturday, Feb. 9, 2019, from 4-6 pm at Autry's Carroll-Lehr Funeral Home. Funeral Service will be 2 pm Sunday, Feb 10, 2019 at Calavary Baptist Church in Brownsboro with burial to follow at Oaklawn Memorial Park.
Previous Events
Visitation
Autry's Carroll-Lehr Funeral Home
1910 E Tyler St.
Athens, TX 75751
Service
Calvary Baptist Church - Brownboro
Brownsboro
Brownsboro, TX