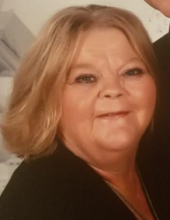 Obituary for Shelia Pyle
Graveside services for Shelia Pyle, 59 of Brownsboro have been scheduled for 2:00 P.M. Monday, June 29, 2020 at Pyle's Prairie Cemetery in Kemp with Rev. Erick Graham officiating under the direction of Autry's Carroll-Lehr Funeral Home.
Shelia passed away Thursday night in Tyler.
She was born March 5, 1961 in Dexter, New Mexico to the late James E. and Pansy Faye Ross Fullingim.
Shelia loved doing Arts & Crafts and Gardening. She loved family gatherings and cooking for them and always looked forward to the annual Super Bowl Party that had turned into an annual family reunion. She loved to travel and especially loved to go on cruises. She had a kind heart and family was everything to her and she especially loved spending time with her grandchildren who they called the World's Best Nana. She will be missed dearly by her family and all that knew her.
She was preceded in death by her parents James E. Fullingim and Pansy Faye Fullingim, sisters; Glenda Sue Fullingim and Sharon K. Prince, grandchild; Baby Pyle.
Survivors include her husband of 33 years Robert Pyle of Brownsboro, sons; Robbie Pyle of Dallas, Dusty Pyle and wife Amanda of Chandler, grandchildren; Keevin Pyle, Halee Garrison, Kortnee Pyle, Damon Pyle, Shaylea Pyle, Darrell Pyle and Malerie Pyle, brothers; Jerry Fullingim and wife Brenda, Clifford Fullingim and wife Holly, Jim Fullingim and wife Paula, Donny Patterson and wife Kristi, sister; Joyce Hinds, Debra Hickson and husband Robert, cousin; Tammy Athey and numerous nieces and nephews and a host of friends.
Visitation will be held Sunday afternoon from 12-5 P.M. at the funeral home.


Previous Events
Visitation
Autry's Carroll-Lehr Funeral Home
1910 E Tyler St.
Athens, TX 75751
Graveside
_
_, TX

Pyle's Prairie Cemetery, Kemp Texas