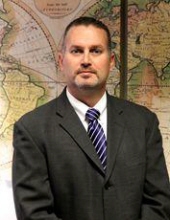 Obituary for Stephen Blake Stiles
Stephen "Blake" Stiles passed away in Athens, Texas, on May 13, 2020, at the age of 45. He was born in McAlester, Oklahoma, on December 12, 1974, to Larry and Sharon Stiles.

Blake grew up in Quinton, Okla., where he spent every moment he could on his bicycle, in his friends' backyards or on a basketball court. He was a star high school athlete, standing out in football, basketball and track. He often spoke with pride of his father the fire captain and his mother the principal's secretary "who really ran the school." Spending hours near his mother's desk and being taken under the wing of the high school principal instilled in him a deep understanding of the profound impact an educator can have on the life of a child.

He met Claudia, his wife of 20 years, in 1994 during a high school basketball tournament at Eastern Oklahoma State College. Claudia, then 17 and herself a gifted athlete, was competing in the tournament when a mutual friend introduced her to the college student running the scoreboard. Five years later, they married and moved to Paris, Texas, where they took teaching positions at a nearby community. Blake spent several years as a classroom teacher and coach in districts ranging from 2A to 5A, before moving into administrative work.

He came to Athens in 2011, after being recruited by Athens ISD to fill the position of assistant superintendent/human resources director. He was named superintendent the next year. During his tenure, Blake continuously strove for excellence and innovation. He launched a districtwide strategic plan for improvement, which ultimately included the passage of a bond in 2015 to fund construction and renovation projects across the district. More recently, under his leadership, AISD became one of the first districts in Texas to implement a four-day instructional week as part of an effort to retain and recruit the best teachers. "There can be no standing still," he once said. "If we don't continually push for improvement, then we're losing ground. So we keep pushing."

He was first and foremost a family man, fiercely proud of his wife, an elementary principal at AISD, and his two children, Taylor and Jaxson, who each excel academically and athletically. As dedicated as he was to his Hornet family, if it came down to a choice between cheering on his children or attending a meeting, he inevitably chose his children, in whom he took frequent and obvious delight.

Blake Stiles took pride in winning — whether that be professionally, academically or athletically. When his administrative team, his teachers, his students or, most especially, his family members succeeded, he was his happiest.

Blake was preceded in death by an infant daughter, Kylie Paige Stiles; mother, Sharon Stiles; and grandparents, Charles and Gladys Hollie, and Eddie and Evelyn Stiles. He is survived by his devoted wife, Claudia Williams Stiles, daughter, Taylor Stiles, and son, Jaxson Stiles, all of Athens; father, Larry Stiles, of Quinton; sister, Stephanie Richardson, and her husband, Chris, of Shawnee, Okla.; father- and mother-in-law, Jimmy and Vickey Williams, of Red Oak, Okla.; as well as numerous aunts, uncles and cousins.

Open visitation will be held from 8 a.m.-5 p.m. Saturday, May 16, and 12:30 p.m-5 p.m. on Sunday, May 17, at Autry's Carroll-Lehr Funeral Home in Athens. Graveside service will be held at 2 p.m. Monday, May 18, at Miners Cemetery in McCurtain, Oklahoma.


Previous Events
Visitation
Autry's Carroll-Lehr Funeral Home
1910 E Tyler St.
Athens, TX 75751
Visitation
Autry's Carroll-Lehr Funeral Home
1910 E Tyler St.
Athens, TX 75751
Graveside
Miners Cemetery
.
McCurtain, Oklahoma 74941