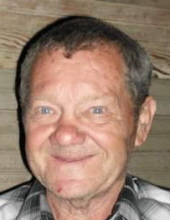 Obituary for Thaine Anson Gregg
Thaine Anson Gregg passed away on June 25, 2019 in Tyler, Texas. He was born on January 21, 1948 to Arvel and Willie Tedder Gregg.
He was preceded in death by his parents; his beloved JoAnn Dyer Burrows; his grandparents, Henry and Lillie Gregg; his Aunts, Hazel, Vera and Mary; his Uncles, Robert, John Henry, W.O. Gregg.
Thaine was known in Athens as the "tractor man". He rode his tractor all over town. He was such a friendly man with a generous heart. He would do anything for anyone. He had a garden and he enjoyed nurturing his garden and then giving food to those who needed it. Thaine loved the Lord and had peace in his heart about where he would live for eternity. He will be greatly missed by those who knew him.
Survivors are his daughters, Christy Belknap and husband Chris, and Sandi Toney; his sisters, Lucy Dee Chambers and Connie Fay Lehowicz and husband Bruce; also surviving is numerous nieces and nephews.
Graveside services will be held on Friday, June 28, 2019 at 10:00 AM at Cottonwood Cemetery in Athens with Bro. Larry Fondren officiating.
Arrangements by Autry's Carroll-Lehr Funeral Home.
Previous Events
Graveside
Cottonwood Cemetery
a
Athens, TX