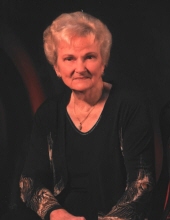 Obituary for Tommie Frances Watson
Tommie Watson passed away quietly at her home in Gun Barrel City surrounded by her family, on May 10, 2019. She was born Tommie Frances Scoggins on October 8, 1926 in Corsicana, Texas.
She was preceded in death by her loving husband, Bill Watson.
Tommie celebrated life. She enjoyed traveling and being with friends, but her greatest joy was her family. She was the matriarch of the Scoggins clan and loved having all of her family around as often as possible. She will be greatly missed by all who knew and loved her.
She leaves behind her daughter, Leslie; her son, Larry; her grandchildren, Ryan, Kathryn, Eric, Jason and Lauren; her great-grandchildren, Lukus, Logan, Ethan, and Aiden.
In lieu of flowers the family request that memorials be made to, The American Cancer Society, The Henderson County Library or the Henderson County Food Pantry.
Visitation will be held from 1:30-2:30 on Monday, May 13, 2019 at Autry's Carroll-Lehr Funeral Home, with graveside services to follow at 3:00 PM at Oaklawn Memorial Park, with Jonathan Lilley officiating.
Tommie would want all that knew her to now celebrate her life. She would tell you:
I am at peace; my soul is at rest.
There is no need for tears,
For with your love, I was so blessed
For all these many years.


Previous Events
Visitation
Autry's Carroll-Lehr Funeral Home
1910 E Tyler St.
Athens, TX 75751
Graveside
Oaklawn Memorial Park
3100 FM 317
Athens, TX 75751