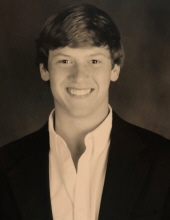 Obituary for Trey Carlock
Trey Carlock departed the world to meet his Savior on August 10, 2019. Born Raymon Byron Carlock III, "Trey" entered our lives on September 30, 1990.
Trey was a graduate of Highland Park High School Class of 2009 and attended middle school at Cistercian Preparatory School. A National Merit Scholar, Trey graduated summa cum laude from Harding University, where he began preparing for a career in neuroscience research. Trey did research internships at Harvard, Massachusetts Institute of Technology (MIT), Center for BrainHealth in Dallas and had been enrolled in a master's program at University of Texas at Dallas prior to his death. He studied abroad in Greece, Switzerland and Zambia and was a Trinity Forum Academy Fellow in Osprey Point, Maryland. Trey was a Eagle Scout, excelled as a middle school tennis and football player and as a high school lacrosse, football and cross-country athlete. His greatest joy was being "Uncle T" to his nephews and niece.
Trey was preceded in death by his paternal grandfather, Raymon B. Carlock, Sr. and his maternal grandfather, M. Eugene Barker, Sr.
He is survived by his mother, Laura Barker Carlock; his father, R. Byron Carlock, Jr.; sister, Elizabeth Carlock Phillips, brother-in-law, Kevin Phillips, and their children; his brother, Barker Carlock; maternal grandmother, Elizabeth Barker; paternal grandmother, Jean Carlock; and many cousins, aunts, uncles, and friends.
Trey was a Kanakuk Kamps abuse survivor and for years fought valiantly against the trauma he suffered. He had a heart for others who were victims there as well, and he was a generous friend to those he could help.
Funeral arrangements will be handled by Autry's Carroll-Lehr Funeral Home at Lake Athens, Texas, where a private family service will be held.
In lieu of flowers, donations can be made to the Trey Carlock Memorial Fund at The Dallas Foundation (www.dallasfoundation.org) or the Trey Carlock Endowed Scholarship Fund at Harding University, established to help students excel in the Honors College by having access to grants for travel to conferences and academic competitions.
Cemetery Details
Location
Oaklawn Memorial Park
3100 FM 317
Athens, TX 75751