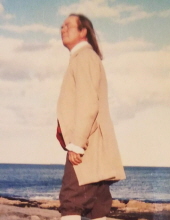 Obituary for William Earl Pruitt
To everything there is a season.... Will Pruitt left this world to be with our Lord on Sunday, October 6th, 2019 after a hard-fought battle with cancer that took his body, never his spirit!
Will was born on September 2nd, 1950 in Athens, Texas to Bohn Hobbs "Doc" and Lois Hamilton Pruitt. His big sister, the late Suzanne Pruitt was happy to have a baby brother she promptly decided should be called by the endearing name, Jug Head.

Will graduated Athens High School in 1969 and spent some years exploring life and higher education in Austin, at The Armadillo, the drag, sailing and attending classes at UT which he considered his University and supported throughout his life, having season basketball tickets and his same Drum seat partner, Brad, for over 25 years.

After going to work for the United States Post Office in Austin in 1979
he moved back to Athens to raise his daughter Lily Ann, and was a proud Dad to share, teach, learn, explore and explain life with, which he did through the music of the Beatles and showing her the world and always talking about everything.

In 2001 he married his sweetness, Pamela and they took to the world hand in hand doing all the things they dreamed of and he promised her. Traveling coast to coast, attending his National Rural Carrier Conventions for 18 years together, taking the Queen Mary across the Pond and every Amtrak trip they could arrange," oh the places we've been!" Their passion, and one he shared with Lily and his lifelong friend Merle was attending theatre. A play at night in London or New York was a thrill for him.

Will has been a devoted supporter and hands on advocate of the Athens Little Theatre, as a stage dad, actor, set painter, raffle hawker, board member and proud sponsor with Pamela of fantastic shows. Even in his passing he is asking for your support of his passion, (he wanted to put in a plug!)

Will loved his church so much he never had a problem expressing how he felt about anything he thought could be made better or explaining to every incoming pastor that he knew proof of God... for only He could create the miracle of the Beatles. He loved his Discovery Sunday School Class because their unconditional love and support gave him a place to truly communicate, debate, agree/disagree, celebrate with and grieve with. You all were a blessing to him. As were his web of cousins, Cindy, Jan, Sara, Pruitt and brother Dick especially, and all who always took those "Cousin Calls" that were so healing and soothing to him.

He was honored to be a member of the Methodist Men and enjoyed many a breakfast of fellowship with men of Christ. Those early mornings were not so hard after he started his 'shake a leg' class. He had so much fun doing his unique movements to the Beach Boys at 8am. His energy and enthusiasm had found a home.

Will and Pamela's big and busy family in Austin embraced Uncle Will or Uncley Duncley as a guide for our family. His sisters and brothers-in-law kept him busy holding babies as their families started, to cheering on and supporting his nieces and nephews as they walked through life, across the stage or down the aisle to start families of their own. It was always expected that Uncle Will would offer Grace for family meals, or any random prayer he felt necessary to share.

Will loved his Rural Carrier family. Being a postman was never a job to him. It was a calling and a commitment, one that he groomed and fought for with a passion that fellow carriers recognized throughout his 35-year career, acknowledging him as Carrier of the Year in 2012 for his voice and activism.

Will's life and personality were too big for these few simple words but if you were a friend or a stranger Will always let you know who he was, agree or disagree, shocked or delighted, you knew the world had been lifted just a little by his presence.

,,,and a time for every purpose under heaven
Ecclesiastes 3

Visitation will be 4-6 pm, Friday, October 11, 2019 at Autry's Carroll-Lehr Funeral Home. Funeral service will be 2 pm, Saturday, October 12, 2019 at First United Methodist Church of Athens with Rev. Faulk Landrum and Rev. Jason Smith officiating.

In lieu of flowers, the family requests donations be made to the Methodist Children's Center. Go to the following link and when giving, choose "Methodist Children's Center" or put "In memory of Will Pruitt" in the memo: http://www.firstathens.org/online-giving.html. Donations can also be made to the Henderson County Performing Arts Center hcpac.org or mail to PO Box 102 Athens, Texas 75751. Make checks to HCPAC.


Previous Events
Visitation
Autry's Carroll-Lehr Funeral Home
1910 E Tyler St.
Athens, TX 75751
Service
First United Methodist Church - Athens
225 Lovers Lane
Athens, TX 75751